A gritty tale of guns, sex, vinyl, and revenge.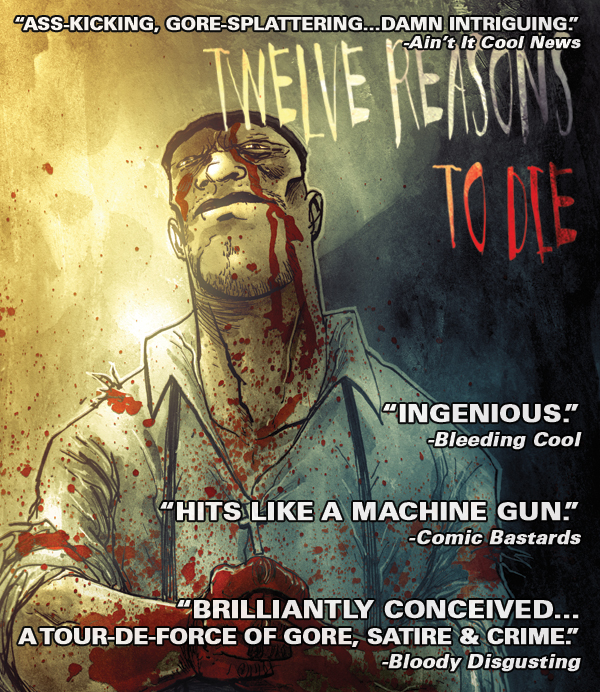 This horror-crime hybrid from the legendary Wu-Tang Clan's RZA and Ghostface Killah is the brutal story of a vengeful soul hunting the 12 most powerful crimelords in the world.
It is illustrated by a rotating team of cover & interior artists including Tim Seeley (Revival, Hack/Slash), Paolo Rivera (Daredevil), Francesco Francavilla (Black Beetle, Detective Comics), Ramon Perez (Tale of Sand), Ben Templesmith (30 Days Of Night), Riley Rossmo (Bedlam), Garry Brown (The Massive), Jim Mahfood (Tank Girl), Kyle Strahm (Haunt), Toby Cypress (Blue Estate), Tyler Crook (B.P.R.D.), Joe Infurnari (Mush!), Breno Tamura (Pigs), Nate Powell (Swallow Me Whole), Gus Storms (Space Creep), Chris Mitten (30 Days of Night), and Ron Wimberly (Prince of Cats); written by Matthew Rosenberg & Patrick Kindlon (Menu).
*12 Reasons To Die is a multi-platform, transmedia concept project with a storyline that spans from the comic book to the new Ghostface Killah album released simultaneously by RZA's Soul Temple Records.*
12 REASONS TO DIE
12 Reasons To Die (6 issue mini-series)
Created by Ghostface Killah & Adrian Younge
Story by Adrian Younge, CE Garcia, Matthew Rosenberg
Writers: Matthew Rosenberg, Patrick Kindlon
Artists: Breno Tamura, Gus Storms
Colors: Jean Paul-Csuka
Transition Splash: David Murdoch
Letters: Frank Barbiere, Jim Campbell
Production Artist: Vincent Kukua, Ed Brisson
Produced by Bob Perry & Matt Pizzolo
Executive Produced by RZA
Guest Artists:
Kyle Strahm
Joseph Infurnari
Dave Murdoch
Brian Level
Tim Seeley
Nate Powell
Tyler Crook
Toby Cypress
more TBA
Covers:
issue 1 cover A – Christopher Mitten
issue 1 cover B – Ronald Wimberly
issue 1 'Ghost variant' – Jason Jagel
issue 1 'Suspiria variant' – Shaky Kane, designed by Matt Pizzolo
issue 1 'Tour variant' – designed by Soul Temple & Matt Pizzolo
issue 1 'Ticket variant' – designed by Matt Pizzolo
issue 2 cover A – Garry Brown
issue 2 cover B – Jim Mahfood
issue 2 'Maniac variant' – Johnny Ryan, designed by Matthew Rosenberg
issue 3 – Ben Templesmith
Jimmy Fallon calls it a "cool comic" and zooms in on the cover for 1.7 million viewers:

Go behind-the-scenes into the making of 12 Reasons To Die comic book in this video:

Recent Features:
CBR
NPR
XXL Magazine
Spin Magazine
USA Today
iFanboy
Recent Interviews:
Aint It Cool News
Huffington Post
Punk News
Recent Reviews:
"A triumph of high concept storytelling and raw imagery, Black Mask Studios' 12 Reasons To Die #1 comes highly recommended."
Bloody Disgusting (Jorge Solis)
http://bloody-disgusting.com/news/3232068/review-12-reasons-to-die-1/
"Since this is the first print publication from Black Mask to hit the stands, it bears the responsibility of hinting about things to come and what to expect from Black Mask in the near future but it encompasses so many of the ideals and the attitudes of the company in such an overt way that it may surprise readers by displaying even higher ideals than they expected to find… Who knew idealism could be so entertaining? Apparently Black Mask suspected that was possible and decided to show the industry how it's done."
Comics Beat (Hannah Means-Shannon)
http://comicsbeat.com/review-black-mask-studios-hits-the-ground-running-with-12-reasons-to-die/
"I'm a big fan of companion pieces as a rule. I think American Psycho is as great a film as it is a book, both parts offering something to the audience, bringing the pieces of Bateman together in a satisfying way. So I can't tell you how excited I am to be able to experience 12 Reasons To Die, the comic, the album, the whole bloody mess. Talented people, telling the stories they want to tell, the way they want to tell them, that's what comics should be all about."
Bleeding Cool (Louis Falcetti)
http://www.bleedingcool.com/2013/05/07/12-reasons-to-die/
"Twelve Reasons To Die starts with a bang, but leaves with enough to entice a return for the next issue with the promise of these themes being explored in future issues of this 6 issue series. The selection of artists is fantastic in this issue, as each seem to match the tone. Some of them, such as the first installment by Breno Tamura and the final installment by Gus Storms have a very gritty Klaus Jansen feel by way of the noirish panels of Shawn Martinbrough, while the flashback scenes are more experimental and surreal from Kyle Strahm & Joe Infurnari. The story reads fast and left me longing for the second issue, if only to soak in the varied and gorgeous artwork."
Aint It Cool News (Ambush Bug)
http://www.aintitcool.com/node/61906#8
"High concept, great art and all accompanied by a soundtrack album that is already highly regarded? I am so down. This really is the summer of Ironman."
Forces of Geek (Triple Shot)
http://www.forcesofgeek.com/2013/05/triple-shot-twelve-reasons-to-die-1-x-1.html
"Twelve Reasons to Die is an ambitious and gorgeous comic that tantalizes readers while making them yearn for more. With over twenty artists collaborating on the project, each issue is going to be a shotgun to the face of drama and violence. Even though I can't tell if I'm fully satisfied, I know I desire more dance club brawls, killer bees, evil sheep, and vinyl. Verdict: BUY IT."
Weekly Crisis (Nevin P. Jones)
http://www.theweeklycrisis.com/2013/05/twelve-reasons-to-die-review.html
"What do I like about the six-issue comic? For one thing, it was created in collaboration with more than 20 of my favorite artists, including Anders Nilsen, Nate Powell, Jim Mahfood, Tony Moore and Ben Templesmith. Written by Matthew Rosenberg and Patrick Kindlon, the series is sure to be a talker."
USA Today (Whitney Matheson, Pop Candy)
http://www.usatoday.com/story/popcandy/2013/05/13/ghostface-comics/2155943/
"Black Mask Studios, you win the Wednesday."
Famous Monster (Holly I.)
http://famousmonsters.com/reviews/comic-review-twelve-reasons-to-die-1/
Comic book teaser video: